SWILLY CORN VALLEY, CALIFORNIA — Yesterday, for the first time ever, Twitter applied real-time fact checks to tweets created and sent by the most powerful man in the world.
The social media giant earlier this year issued a statement that they would be labeling misleading tweets from politicians and heads of state rather than ban the officials outright from their platform. President Donald Trump got his first taste of a Twitter reality check when two of his tweets were modified by Twitter to also include links to factual information on mail-in voting. Trump has been falsely claiming without evidence that widespread mail-in voting leads to rampant fraud.
Yesterday, for the first time ever, Twitter added a label to Trump's tweets, directing users to "Get the Facts" about voting by mail by clicking a link added to Trump's tweets, below.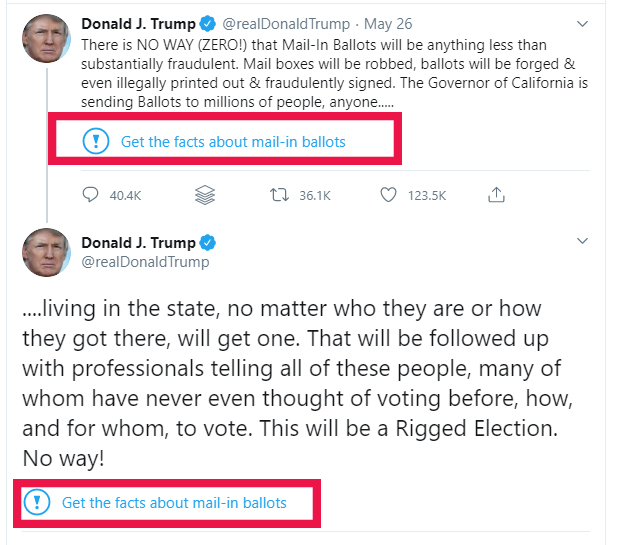 The president uses mail-in voting in Florida, where he moved his official residence to last year. When asked about this fact at a recent White House press briefing, Propaganda Secretary Barbie McEnany waved off criticisms and answered that "the president is the president, after all." It's unclear what, exactly McEnany meant with her answer, but observers note it was no less coherent an answer than she usually gives to any number of questions on any given day.
Perhaps predictably, the easily rattled Trump did not take well to having his tweets fact checked. In less than 24 hours, the president has tweeted four times on the subject. Despite the First Amendment not applying to privately held companies' social media platforms, Trump has assailed being fact checked as "stifling FREE SPEECH."
….Twitter is completely stifling FREE SPEECH, and I, as President, will not allow it to happen!

— Donald J. Trump (@realDonaldTrump) May 26, 2020
….happen again. Just like we can't let large scale Mail-In Ballots take root in our Country. It would be a free for all on cheating, forgery and the theft of Ballots. Whoever cheated the most would win. Likewise, Social Media. Clean up your act, NOW!!!!

— Donald J. Trump (@realDonaldTrump) May 27, 2020
In his most recent tweet on the subject, Trump appeared to threaten Twitter over the fact checking. However, it's not clear what, exactly, his legal leverage against them would be. Nevertheless, Trump promised "BIG ACTION."
Twitter has now shown that everything we have been saying about them (and their other compatriots) is correct. Big action to follow!

— Donald J. Trump (@realDonaldTrump) May 27, 2020
But Twitter wasn't done with Trump's tweets after fact-checking them. In a written statement, Twitter has decided it will also label tweets from the president in a way so as to "add vital clarity and context" when they feel the tweets themselves need them in order for users to not be mislead or misunderstand President Trump. The new label will begin to be seen on Trump tweets beginning this week.
"Because of the unique intellectual capacity of our president, and his unbelievably strained and tenuous relationship with truth and reality," Twitter wrote, "we will also begin to add a new label to some of his tweets when needed. The new label will remind users that Trump is an emotionally fragile idiot, and hopefully that means people who read his tweets will remember pretty much nothing he says should be taken at face value."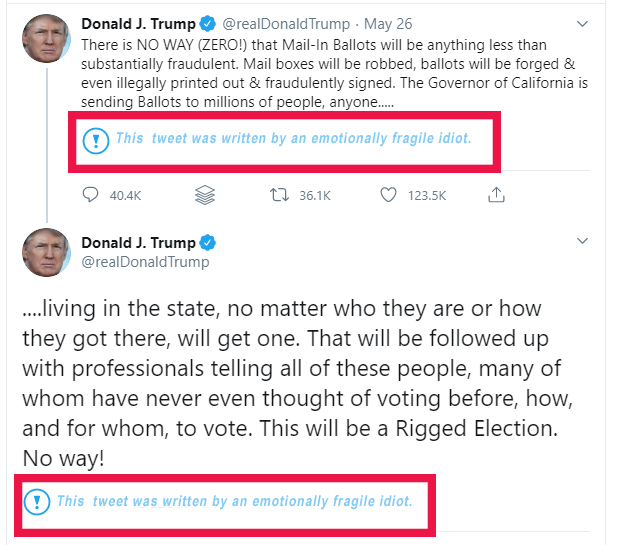 Twitter insists they are "not making any value judgments" of Trump, or his followers, with the new label. Instead, they argue that they're "providing a service to all the non-stupid people" who use their website. Twitter says they "have a duty to all not-derpy people to keep everyone up to speed on the president's fragility and whining."
"You would think that the most powerful man in the world has more important things to do than sit and watch Fox News and tweet stupid shit about what he sees," Twitter wrote, "but here all are anyway. If he's going to bloviate idiotic conspiracy theories and whine like a little bitch all day, the least we can do is our part to remind everyone that he's tweeting the words of a pathetic little douchebag and small-minded moron."
The White House is reportedly looking into either a tactical nuclear strike of Twitter's headquarters, or nationalizing all social media and seizing the memes produced therein as part of a national stockpile. This story will be updated with new details on that front, if they emerge.
Like what you read? Sign up for my Patreon, or consider dropping a buck or two in my virtual tip jar, via my PayPal.Me account.
Writer/comedian James Schlarmann is the founder of The Political Garbage Chute and his work has been featured on The Huffington Post. You can follow James on Facebook, Spotify, and Instagram, but not Twitter because Twitter is a cesspool.